spoon
biography
I never know what to say about myself...I guess that's why I write songs instead. Listen to my music and you'll get to know me.
0

March 23rd, 2011 + 3:03 PM
·

spoon
I know, I know, I'm a bad amper
I have had to put my musical musings on hold for a while, as I am currently pursuing my dream of competing in the Olympics (no, there's not a chick guitar singer/songwriter event now!), in the sport of sailing (women's match racing discipline to be exact).
This endeavour is a huge time investment. We have been training, and competing in races, and working with coaches, and going to the gym etc etc etc - it's a lot of work! Anywho, I'll try to check in periodically...since I do miss the amp!
0

May 12th, 2009 + 7:05 PM
·

spoon
I miss the amp : (

Just need a new pair of headphones....mine broke (why yes, I'd love some cheese with my whine)
1

November 23rd, 2008 + 5:11 PM
·

spoon
Thought I'd drop by the amp and say hello! Life has been madness lately - my headphones are broken, my computer is slowly turning into a molten pile of plastic, hence my lack of audio reviews. New music from spoon is on the way though - I'm just taking my sweet time, as usual.

Had a lovely visit with Swordfish and wife in September...I even got to see him play in a parade. He showed me all the sites of his town in record speed, and fed me fabulous beef and Yorkshire pudding. I wish I would have had more time to spend there!

There is snow on the ground - and I'm eager to go snowboarding. I was reading a local entertainment paper, which listed "Educated Guess" as their band for the night. I thought that I remembered Ed saying he was going to be in Canada sometime...so I went to check it out. Alas, it was not him, instead I was treated to 70s rock, energetically performed by some local seniors. LOL!!

I'll try to be around more...I do miss my amp friends!
1

January 16th, 2008 + 5:01 PM
·

spoon
Hey bandamper pals...I'm going to be in the UK in September for a couple of weeks - a friend is getting married in Cardiff...but that's just one day - so I'll be renting a car and tootling around Wales, England and Scotland - to see what I can see.

If any of my amp friends over there are interested in getting together for a drink, pm me..and we'll try to arrange something. Or, if you have any suggestions about things I should see or do - let me know!
1

January 5th, 2007 + 4:01 PM
·

spoon
quick bloggy blog to say that I'm still alive...missing all my bandamp friends....I'll have more time soon..soon...thinking of adding kazoo solos to my songs...there's not enough kazoo solos in modern music (or any music for that matter!)
3

December 10th, 2011 + 6:12 AM
·

spoon
spoon in Australia....I would've posted sooner to try and connect with some ampers here - I do love to meet ampers around the world! But, I found out at the last minute that I was coming here, and I've been super busy with my sailing stuff the whole time I've been here...and I leave tomorrow night
Anyways - haven't been on the amp much or posting music since I've been pursing the olympics....but wanted to drop in and say hello! Now I'm off to the chat room, to see if my flag turns to Australia ; )
14

March 24th, 2010 + 11:03 AM
·

spoon
Hello again happy ampers!
I was inspired to revisit the amp when I received a facebook invite to join the Bandamp group on there.....then Iszil with his post on Hole and Bucket prompted an email to me....and I realized how much I miss Bandamp!
Anyways...just thought I would post this here...instead of adding a bunch of replies to Hole and Bucket - lol
Alrightee.....so who's going to help me figure out the sound drivers thing?
My desktop has a sound card, but no drivers.
6

September 10th, 2008 + 2:09 PM
·

spoon
Merely for interest sake - I am here...right now...in London, England. Only for one day before I head off to various other places...but I am lucky enough to have scheduled in a visit with Swordfish - and rumour has it I may get to here him playing a gig! wOOt!
15

March 5th, 2008 + 6:03 PM
·

spoon
almost done with this one...I think....but then again - your comments will probably make me want to make a ton of changes! Thanks for listening! : )
17

June 21st, 2007 + 3:06 PM
·

spoon
Hey - it's the longest day of the year here in the Northern Hemisphere! Where I live, it's a beautiful day, great for hanging about in those extra rays of sun (with sunscreen on ofcourse!) Party like the Pagans people!
Alias:
spoon
Status: Offline
Threads:
34
Posts:
581
Songs:
17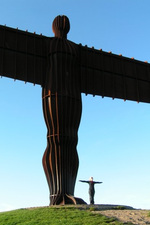 Joined: May 14th, 2003
Last login: March 05th, 2018
My Messengers
| | |
| --- | --- |
| AIM: | n/a |
| ICQ: | n/a |
| Skype: | n/a |